5 Ways to Be Inspired by the World Around You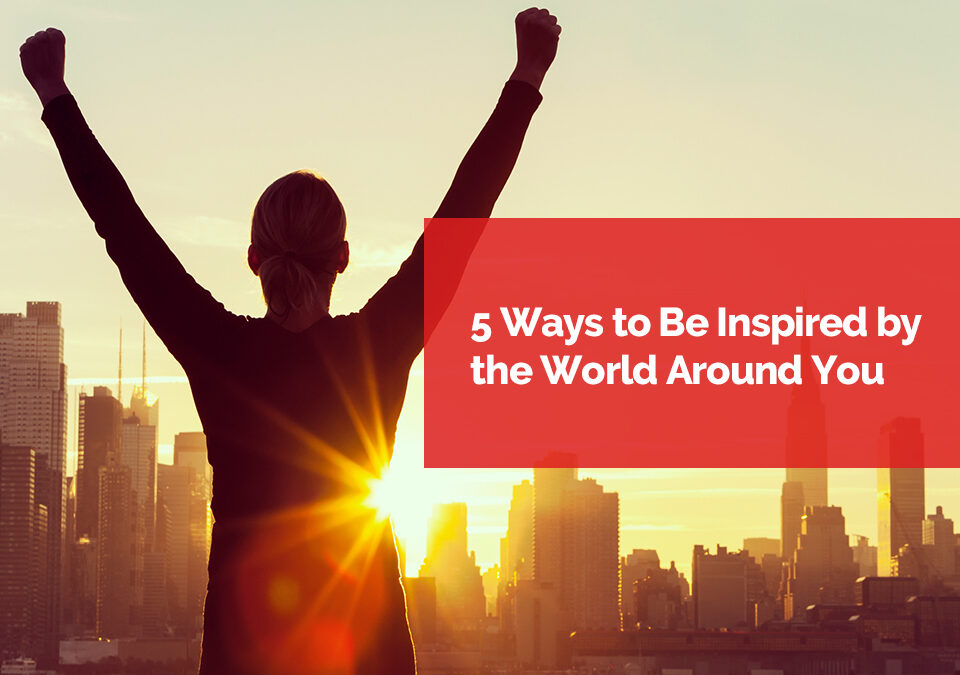 5 Ways to Be Inspired by the World Around You!
Are you finding yourself low on inspiration as the holidays kick in? Here are 5 simple ways to be inspired by the world around you so you can jump out of the slump for the new year!
1. Surround yourself with the right people.

You'd be surprised just how much the people around you can affect your point of view and motivation. Just as you feed off their good energy, you can feed of their bad energy, too. If you're finding negativity around you or just general malaise (in which case you may want to share this blog post!), you might want to think about meeting some new people in your life.  There are lots of opportunities these days; we spoke earlier about hitting those holiday parties (insert blog post), Facebook groups, Meetups, Chamber of Commerce meetings, and community events! Ask someone their opinion on something and strike up a conversation; you'll never know where inspiration can strike!
2. Change your daily routine.
It can be as small as changing toothpaste or as drastic as a bucket list item, but just being open to new experiences can trigger new passions that you might never have otherwise known you had.

Try changing your scenery, even if you don't go somewhere new. Just going for a walk and enjoying nature can change your daily routine.  Research also suggests that even 5 minutes outdoors can significantly boost your mood.

If you're able to travel, it can bring inspiration into sharp focus. Learning how others live their lives is an excellent way to broaden your horizons, gain empathy for others, learn about current events, and be inspired by things you haven't seen before.
3. Go to the gym.
Being fit and active helps stimulate the mind.  Take time to have that dance party, lift those weights, or go for that run around the block. Don't be surprised when you're thinking more clearly, sleeping better, and finding easy inspiration.
4. Couch time.
If you're in the arctic blast areas of the world, find ways to get inspiration from your couch. Find a new book (it doesn't have to be nonfiction!), blog post, newspaper, or magazine.

If reading isn't your thing, there are tons of inspirational videos online, such as TedTalks.  Podcasts are also a great way to hear inspirational interviews and you can listen to it on your run or during your commute.
5. Focus on yourself.
Take some time to be conscious about your wellbeing. Sometimes our lack of inspiration can mean your body or mind is overworked. Make sure you're taking breaks both during your work day and during your work year.  Use those vacation days. Take some time for yourself, be with your family, catch up on rest, meditate, and take a detox from social media.

Clearing your mind of all the 'extra' can leave room for creativity to enter!
Part of the FAM:
Norma Bautista recently graduated with a BFA from Texas Tech University's College of Visual and Performing Arts. She serves as graphic designer for Flint Avenue and creates social media images, PowerPoint decks, and assorted marketing materials.  In her free time, she likes to visit art museums, gardening, and binge watching movies with friends.