Becoming a Facebook Influencer: Step 1: Gain Trust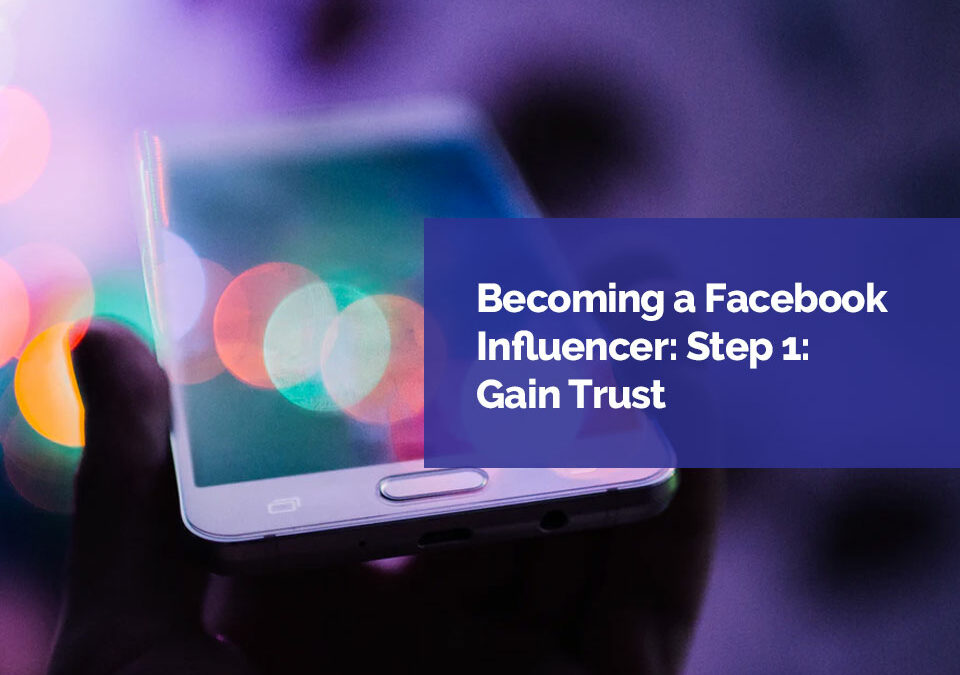 Becoming a Facebook Influencer:
Step One - Gain Trust
The first step towards becoming an influential presence on Facebook is gaining the trust of your followers. Once you have their trust, your reach will spread quickly and organically. Unfortunately, because so many brands are flooding Facebook with ads and marketing campaigns, users are wary of trusting any page that is for a business.
The good news is that it's not hard to stand out from the pack when it comes to gaining the loyalty of your followers. You will find a few in-depth strategies below for creating the right kind of reputation on Facebook.
1. Show What You Know
Any brand can hawk its products and services, but not very many of them can demonstrate expertise in their particular field. This is a simple way to show up the competition while also creating a sense of trustworthiness in your followers.
Don't be afraid to trot out your knowledge of your industry. Offer your readers facts they may not know, break down industry terminology into layman's terms or create useful infographics that allow for easy, fun engagement.
Readers want to feel like they're getting an inside scoop, so if you can give them a peek "beyond the veil" of whatever niche you're focused on, you'll automatically gain their trust. If you can become a reliable source of valuable information for your followers, you will see your engagement numbers shoot up quickly.
2. Entertain Your Audience
Nothing is worse than a stuffy, too-serious Facebook page, especially if it's for a brand or business. These companies may think they're projecting a refined or professional image, but the reality is that they're just coming across as boring. There's a reason that the brands that offer funny, personable content often do so much better on social media, and that reason is entertainment value. Show your audience that there are people just like them working for you, and you'll immediately become more trusted.
Even if your brand offers a product or service that doesn't exactly lend itself to humor, you can still show your audience that you're fun and human. Small things like solving riddles related to your field, holding contests or sharing memes and videos that can be tied back to your product are all great ways to build rapport.
Remember that Facebook is a social media platform first, not an advertising space. You have to give your followers something memorable to engage with if you want to become trustworthy in their eyes.
3. Provide Lasting Value Beyond Your Products
This point ties in with the first one about showing your expertise. Again, any brand can make a big deal about how useful and necessary its products or services are, but a lot of brands simply can't provide anything meaningful to customers beyond that.
If you can teach your audience or spark a meaningful discussion, you can establish your company a thought leader and gain credibility in the process. It's easy to promote a product or service, but it's difficult for brands to go beyond that and offer content with depth or meaning.
This value can come in the form of videos, blogs, charity work or networking opportunities. The possibilities are only limited by your team's imagination. By becoming a thought leader and giving your followers content that is relevant to their daily lives, you're providing lasting value that will promote loyalty and give you a trustworthy reputation.
4. Be Transparent
Consumers are not easily swayed by ads anymore. It's easy for us to spot useless hype and "testimonials" that ring hollow. Don't be that brand.
Your followers will value your honesty in all things far more than you might think. Be honest about your company's values, be genuine in your actions and make sure you respond to criticism and complaints in an upfront manner.
Mistakes are going to happen, and you may not always say or do the right thing. Own up to it publicly, and let your followers see that you're able to learn from your mistakes. This makes a much more compelling story that will influence your followers' perceptions.
In Summary
Gaining influence will take time and effort, but the rewards will be well worth it in the long run. As long as you can provide expertise, entertainment, lasting value and transparency, you will see consistent growth and follower engagement.