Become a Facebook Influencer: Step 2: Become a Voice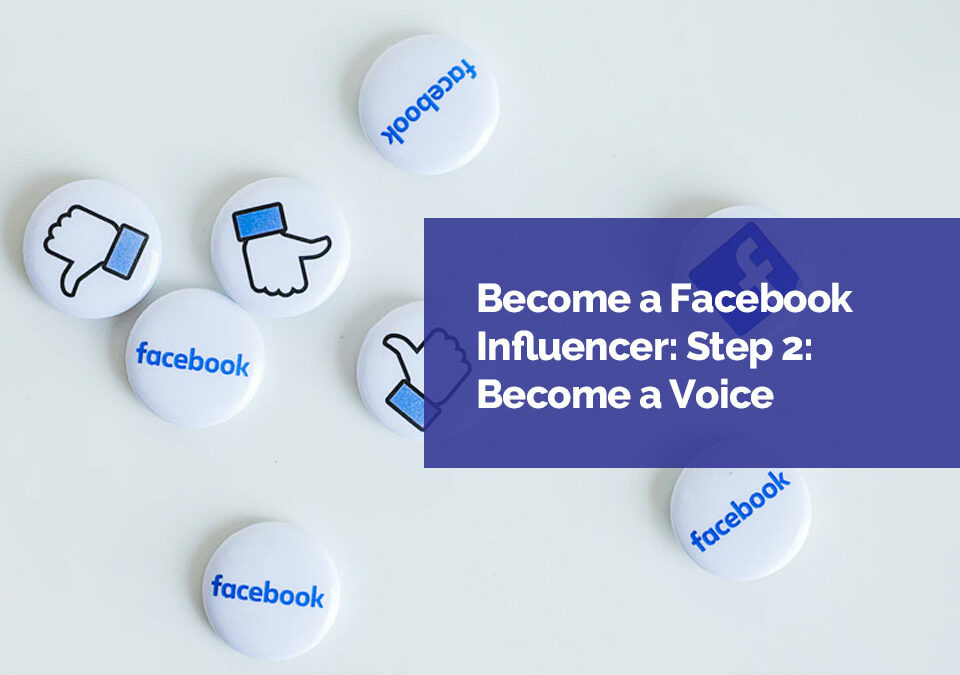 Become a Facebook Influencer: Step 2: Become a Voice
In our technologically advanced world, nearly everyone uses social media and smart devices to make their daily lives easier. The increased popularity of social media does influence the way that businesses operate on a daily basis. In order to stand out from the crowd, you have to develop your unique voice as a leader in the industry you represent. The following information will discuss why this is important and how to be a thought leader that your clients can trust.
Why is it Essential to Become a Voice for Your Industry?
Competition in the business world has always been a serious issue for a business owner to overcome. This issue has reached new levels with the advent and popularity of various social media platforms. With a simple click of a button, potential clients can find information regarding your business, client reviews, related photos, and a whole host of other information. However, they can do the exact same thing with all the competing businesses that deliver similar products or services as yours do. In order to break through all the noise that exists online, you must stand out as different and remain an authoritative voice for your particular industry. This builds trust and ongoing relationships with others that will improve the success of your business over time.
Five Tips for Becoming a Voice for Your Industry
There are a variety of helpful tips you can use in order to become a powerful and authoritative voice for your specific industry. The following five tips will help you accomplish this in a way that promotes the expansion of your business and your overall success.
1. Demonstrate an Understanding of the Needs of Your Audience
As a thought leader, you can't successfully meet the needs of your audience if you do not fully understand what those needs are. You can accomplish this by analyzing your market prior to getting started with advertising. Subsequently, engaging your intended audience on a regular basis will ensure you continue to meet their needs on an ongoing basis.
2. Add Value to the Lives of Your Audience
Facebook and other social media platforms allow you a unique advantage over traditional marketing efforts. Social media allows you to effectively impact the daily lives of your clients and potential clients. This does a lot to strengthen your voice and establish your business as an authority figure. Adding value to the daily lives of your audience could come in the form of helpful newsletters, instructional how-to videos, or a variety of other free content and services that fit in with your business model.
3. Share Valuable Related Content Such as Photos and Videos
Sharing behind-the-scenes videos and photos can also do much for enhancing your voice as a Facebook influencer. For example, you can post a video of you and your employees participating in a company-wide fundraiser, blood-drive, or other community service act. Not all shared content has to be directly related to the products or services you provide. Humanizing yourself and your employees by demonstrating other actions you engage in to help your family and community as a whole can do a lot to help you become a voice for your industry.
4. Remain Consistent in the Voice You Choose
Whatever route you decide to go with your voice as a business entity, stick with it and remain consistent. Frequently changing direction with the voice you choose may give your audience the impression that you are fickle. Remaining consistent will always make your audience feel comfortable because they know what to expect from you on a continual basis.
5. Develop and Demonstrate Clear Company Values
To successfully influence your audience as a thought leader, it's important to have clear values you abide by as a company. Making these values known to your audience and living by them on a daily basis will do a lot for your power and authority as a trusted name in your industry. Values help your audience learn more about your company on an intimate level and demonstrates your involvement in things that are bigger than yourself and your business ventures.
Summary
When determining how to be a thought leader your audience can trust, the above-mentioned tips can be incorporated to provide you with additional success. Breaking through the noise and competition that exists in social media platforms isn't easy, but the outcome can be well worth the effort involved.