Become a Facebook Influencer: Step 4: Recruit the Best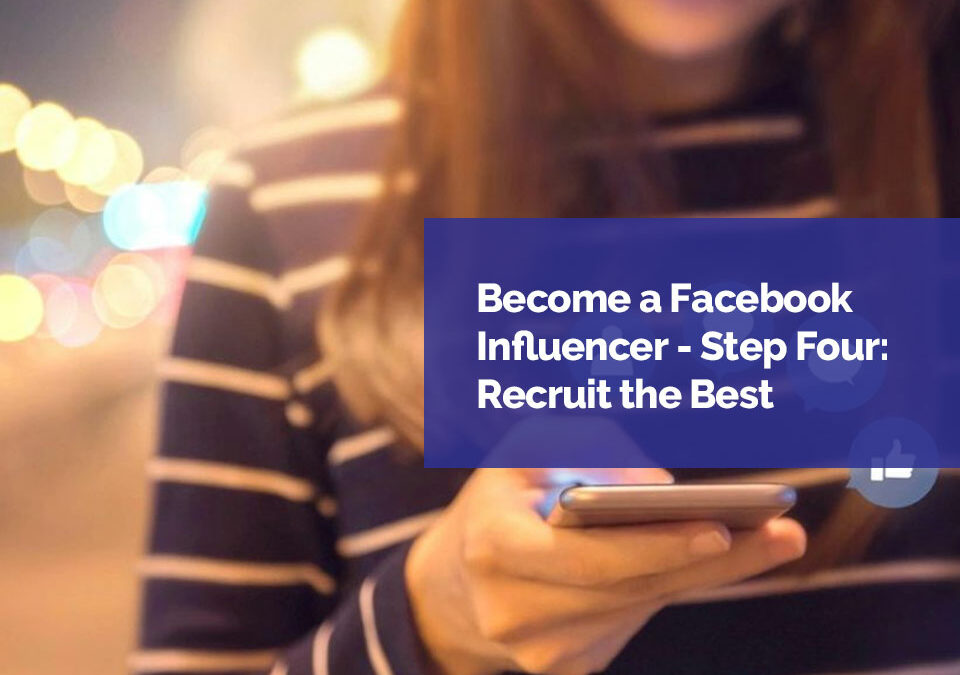 Become a Facebook Influencer - Step Four: Recruit the Best
Facebook isn't just a place to build up social influence. Some of the best Facebook influencers have also realized the importance of being able to recruit top talent through their social media pages as well.
Social recruiting is becoming increasingly popular for businesses of all sizes. When done properly, it can turn some of your top followers into star talent acquisitions, which serves to extend your brand's influence even further. Acquiring the right people can serve as a huge endorsement to your brand.
This post will outline a few different social media strategies for recruiting people who are both talented and passionate about your industry.
1. Look at Their Interactions
This one is somewhat obvious, but it goes beyond simply looking at how they participate in posts made by your page. It is also a matter of looking at their overall post history and how they interact with everyone.
What types of status updates do they make? Who do they share articles and videos from? Do they seem like they have their finger on the pulse of the culture surrounding your industry? All of these things can say a lot about whether or not they are a good candidate for potential recruitment.
2. Consider Groups and Paid Advertisements
If you are actively seeking new hires, you may want to consider taking a proactive, somewhat aggressive approach to recruiting. Facebook groups are a great place to start for this. You can search for groups by keywords, hashtags or the names of specific people and places. These search functions help narrow down groups that are aligned with your brand's needs.
Another avenue to explore is the realm of sponsored posts and advertisements. Facebook allows business pages the opportunity to pay to promote specific posts in order to boost reach and exposure. You can also opt to put up an ad that will show in the newsfeeds of your target demographic. While this is an effective strategy, you should be sure to set up a strict budget and timeline for paid ads to ensure that you're getting the best possible return on your investment.
3. Pay Attention to the Details
When you're looking at potential candidates, you should carefully sift through their personal profiles as much as possible. Most top candidates will have the common sense to keep their profiles carefully neutral, especially regarding questionable humor or controversial topics, but you can still learn a surprising amount just by knowing where to look.
For example, what do their comments on other posts look like? Are they thoughtful, curious, passionate or well-spoken? Even if the post is unrelated to your industry, someone who is thoughtful, intelligent or questioning in other areas is probably going to be a great fit for you.
Another thing to look at is their interests. What groups are they a part of? What types of movies and music are they publicly into? Do they have any causes or organizations they're passionate about? Remember that Facebook is meant to be a highly social place, so these things won't paint a complete picture, but they will be a good place to start. The right kind of Facebook profile can often serve as a ringing endorsement for someone who would become a great asset to your company.
4. Take a Soft Approach
Often, a soft recruitment approach is very effective in the long term, and it fits in well with the rest of the strategies outlined in this series for becoming an influencer and thought leader in your industry. A soft approach goes beyond simply posting open job opportunities and instead offers your followers an honest look into your company culture.
Share content that shows what a great place your business is, and don't be afraid to display what's unique about your culture. People love to talk about unique brands, so this is a great way to organically attract excellent candidates.
In Summary
Being a social media influencer is about more than just posting the right content and interacting with your followers. To really become an influential presence and greatly extend your brand's reach across Facebook and other social media platforms, you should consider social recruiting. The four tips outlined above will help you find the best and brightest to add to your team.