10 Reasons Stickers are a Brand's Best Friend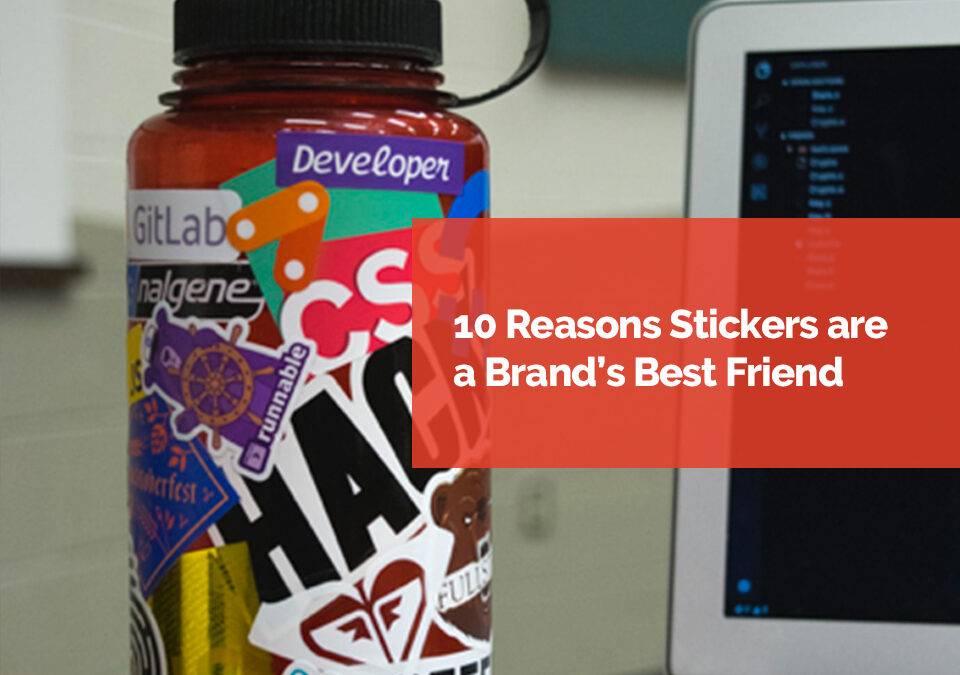 10 Reasons Stickers are a Brand's Best Friend
They say you can't judge a book by its cover, but you can certainly tell a lot about the book's owner by the stickers they add to that cover. Think about it. Placing a sticker onto something requires a person to at least slightly get over any commitment issues they might have. Putting a sticker somewhere indicates that someone is at least a little invested into whatever the sticker represents because it will be there for, well, quite a while. This is exactly why custom stickers are your brand's new best friend. (Give yourself a pat on the back if you heard the "did we just become best friends?!" quote in your head after reading that.)
Okay, so let's say you're a skeptic and wondering why your brand should invest in creating some custom stickers. Perhaps it seems like another over-hyped millennial craze, right up there with avocado toast. Fair enough, but if you begin to break it down and figure out what could be so great about branding with custom stickers, it seems to be pretty obvious (like, neon sign flashing in your face obvious) that it's not even a question. Let's discuss the top ten reasons custom stickers are your brand's new best friend.
It's insta

nt brand

ing. People will slap a sticker on just about anything, from a water bottle or cup to a laptop, a phone case, a suitcase, a book, or even a car. Boom! Instant free advertising! We're willing to bet that's probably the quickest and easiest branding strategy you'll ever encounter. It's done in less time than you can say "Wow, that's pretty incredible!" and your business or organization barely has to lift a finger in the process. Beyond that, it's brand awareness that comes at a very low cost and without a great deal of effort on anyone's part. Say you give one person a sticker and they place it on their laptop. The next day, they go sit in a coffee shop with their laptop. Your brand's sticker could catch the eyes of 50 people within an hour or so. Now, imagine how many sets of eyes will see your sticker over the course of a week. Compare this with all the money companies pour into advertising, and it's not hard to see why custom stickers are an undeniably solid and unique option. They're basically free, ever-moving advertisements.


They make the perfect packing tape. We're pretty sure just about everyone has ordered from Amazon at this point. Have you noticed that all Amazon packages either have the Amazon arrow or the Amazon arrow smile on the side of them? When people see these upon receiving their packages, a connection is made in their brains, and it breeds excitement. ("My stuff is here!") By using stickers on your packaging, your brand can create this same effect with your customers.



Gifts.

Everyone loves receiving gifts. A custom sticker is the perfect gift, even (especially) for that friend who seems to have everything. Stickers can represent a few things when they're gifted. A sticker could be the perfect souvenir to commemorate a special memory, or it could serve as a symbol of something that inspires the person receiving the gift. A sticker can also represent affiliation. Just as everyone loves receiving gifts, everyone also loves feeling like they're part of something. Giving a sticker is the perfect way to combine both of those into one. Your brand's stickers will definitely become many gift givers' answered prayers. You can thank us later.


Lapto

p and water bottle s

tickers. Sure, wearing a company's logo on a t-shirt with jeans on casual Friday was pretty cool for a while, but now it's 2020. We're on to bigger and better things and more modern marketing strategies, AKA plastering stickers all over laptops and water bottles. Seriously, when is the last time you saw a totally barren laptop or water bottle? There's almost always at least one sticker there, but usually stickers completely cover the surface area. When it comes to stickers, less isn't more. Go big or go home. By creating stickers, your brand is basically providing a new opportunity for your customers. You're saying, "Express yo'self. That's what all the cool kids are doing."


They're the perfect seal for cards and letters. Adding a sticker to any mailed correspondence is a simple but effective way to go the extra mile. The beauty is in the details, and nothing makes an envelope fancier than a circle seal on the back to really elevate the brand experience. Small efforts like this make a big difference. Hey, your customers might even want to get in on the fun and use your stickers to seal their mail, too!


Die cut sticke

rs can win y

ou deals. Seriously. Die cut stickers, which are stickers cut into unique, custom shapes, can be the thing that makes or breaks a deal for your business or organization. We say this from experience. We once closed a huge deal by passing out our branded dinosaur-shaped stickers during a sales meeting. If potential clients are on the fence about a decision and you pass out some amazing die cut stickers, it will probably become a no-brainer for them.


Fun. You know what people love as much as gifts? Fun! So go on, give the people what they want. If your brand culture is fun, a great way to let people know that is to give them stickers. Stickers allow customers the opportunity to connect your brand with fun. This is 100% factual, as stated in the "Fun Companies' Rule Book" on page 34. (That's not a real book. Don't bother looking it up!)


Inexpensive way to show you care. This is exactly why stickers have always been a means of currency on the playground, but it carries across generations. What says "be my bestie" better than giving someone an awesome sticker?! If you haven't ever had the pleasure of receiving a cool sticker, message us your address so we can get you a FAM sticker in the mail ASAP. You deserve a cool sticker today!


Customize that meal or those treats you're delivering. Delivering a meal or treats to a client location? Here's an idea you might not have ever considered before. As we've already mentioned, the small details matter. Add your brand's very own sticker next to that Jason's Deli sticker! Stickers work great on top of donut boxes, cupcakes, boxed lunches, pizza boxes, you name it. Seriously. The possibilities are endless. Pro tip: don't use your sticker to seal the food packaging. If the box gets left in the breakroom, you want to make sure that branded sticker is intact and displayed in all its glory!


Some sticker companies send you extra cool stuff. Sticker Mule goes the extra mile and often throws in some awesome extra surprises, like their "Mule Sauce" hot sauce. As if getting amazing stickers with your brand's logo on them wasn't already great, receiving extra cool stuff is the cherry on top.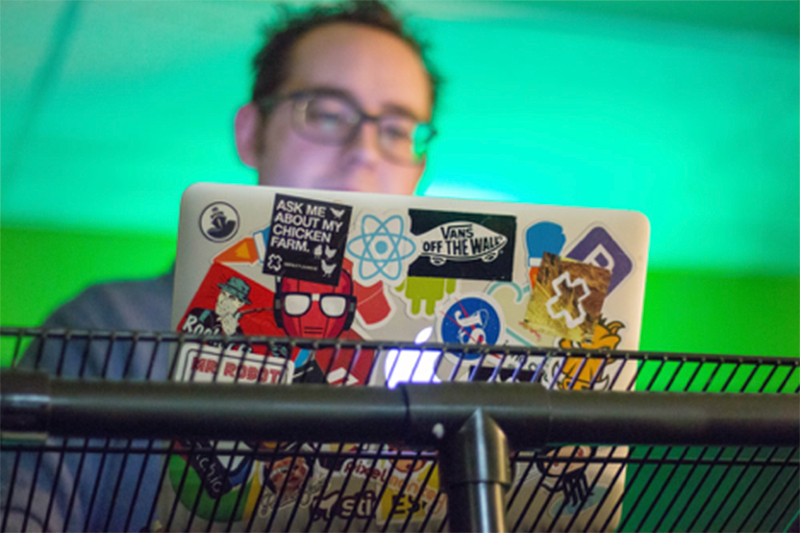 Okay, now we've made it abundantly clear that stickers are always a great idea and you're convinced. But where should you get your stickers from? We've tried all the sticker folks in the world, but you know who we love the most? Sticker Mule. For us, it's a no-brainer as to why: their quality is always top-notch, whether it's stickers, buttons, coasters, magnets, or any of the other fantastic products they offer. Not only is the quality consistently flawless, their customer service is unparalleled. They truly go above and beyond to ensure the best and most convenient experience for their customers with each order. And their deals are unbelievable! They offer all kinds of sweet deals that really hook it up for their customers. If you can't tell, we're pretty big fans.
If a picture is worth a thousand words, a sticker's worth is priceless. Stickers are the gift that keep on giving. Do yourself and your brand a huge favor and head to www.stickermule.com/custom-stickers to start seeing how you can bring those ideas in your head to life and to take your business or organization to the next level!
Some examples of the amazing work Sticker Mule has done for the FAM.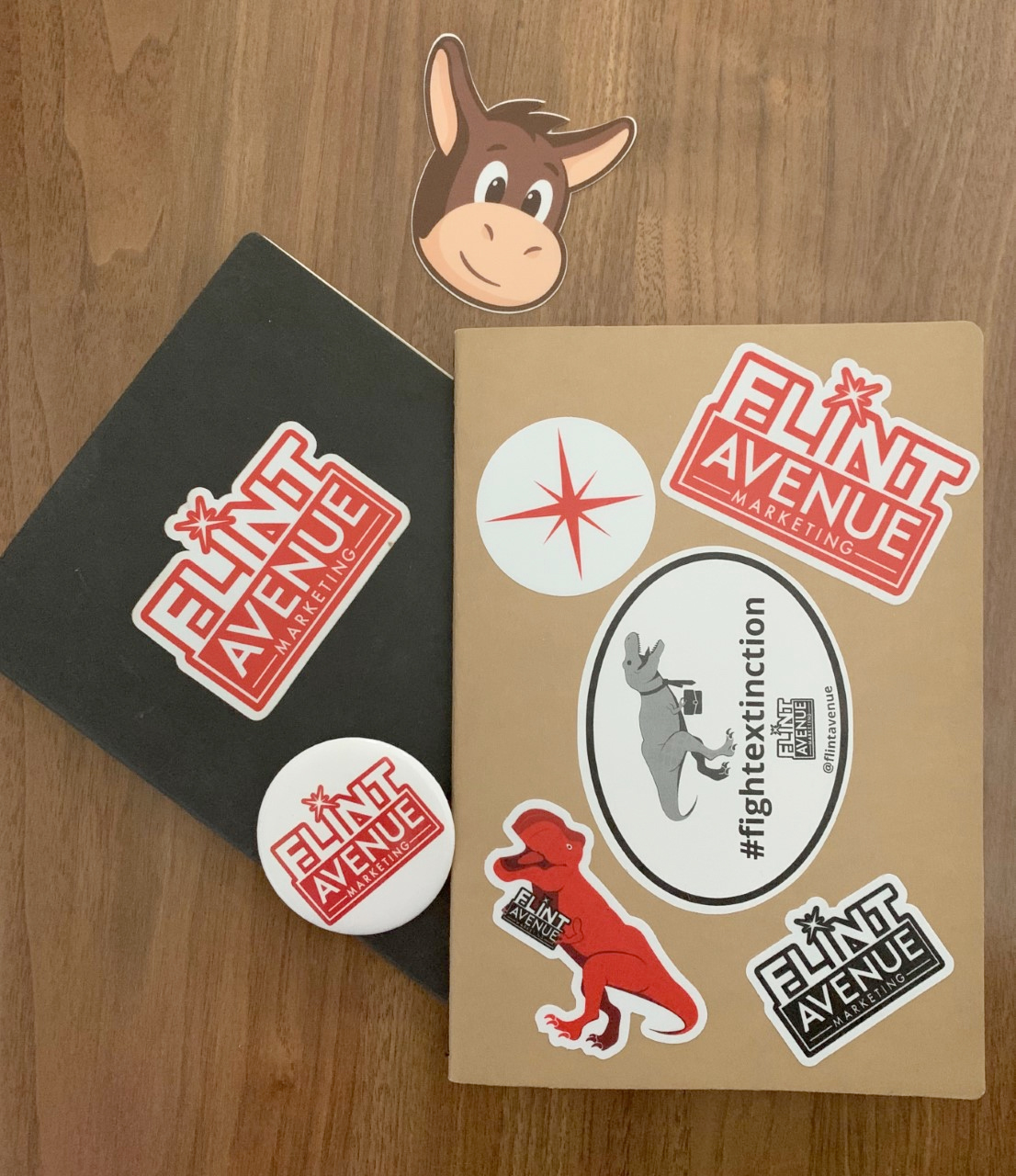 Need a hand in conceptualizing those ideas or fine-tuning them? That's exactly what we do every single day! Reach out to Flint Avenue Marketing to find out more about all of the amazing services we offer.