Women and Work: Joelle Milne, Welder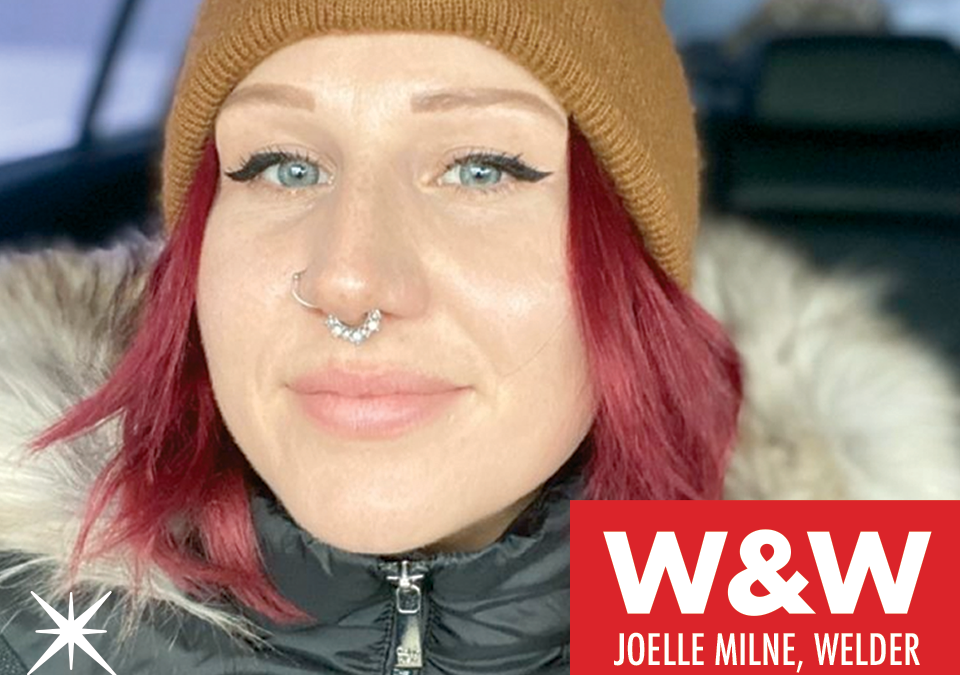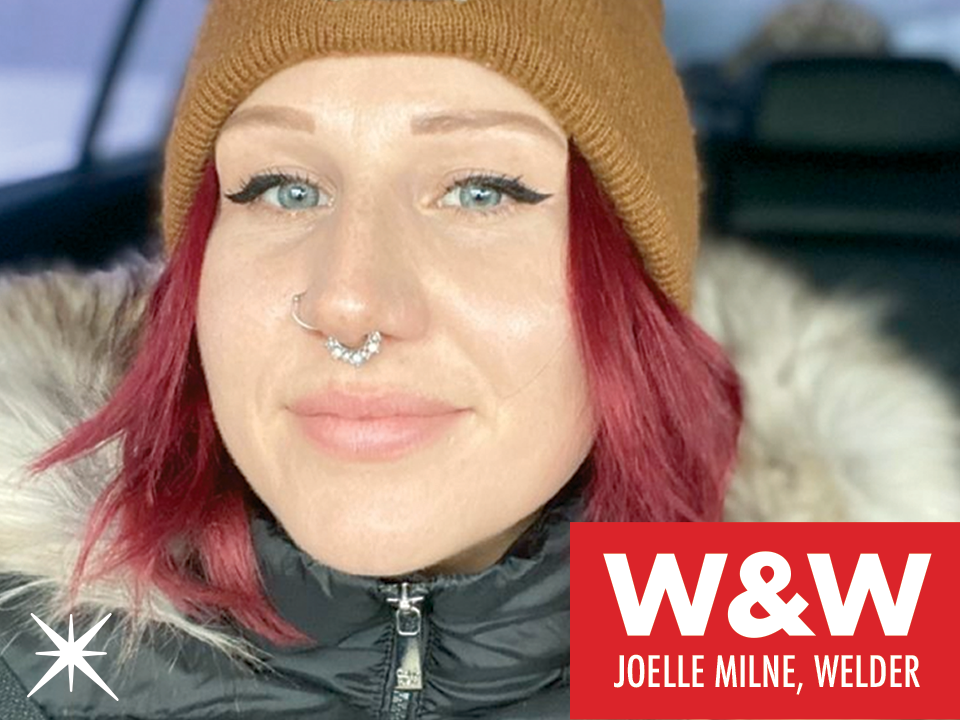 Women and Work: Joelle Milne, Welder
Women and Work is our blog series about women who move their own mountains at work. We'll feature women telling their stories. We'll explore how and why they ended up in what may seem to some an unlikely career choice, what puts them at the top of their game in nontraditional roles, and how they maintain that all too elusive work-life balance. These women are welders, oilfield workers, engineers, bridge builders, ranchers, and more. We hope these women's stories empower other women to consider a new path, a new career, or a new future on the leading edge of some of the toughest jobs on earth. If you are a woman considering a career in a male dominated field, we hope you will find the inspiration you need to move your own mountain.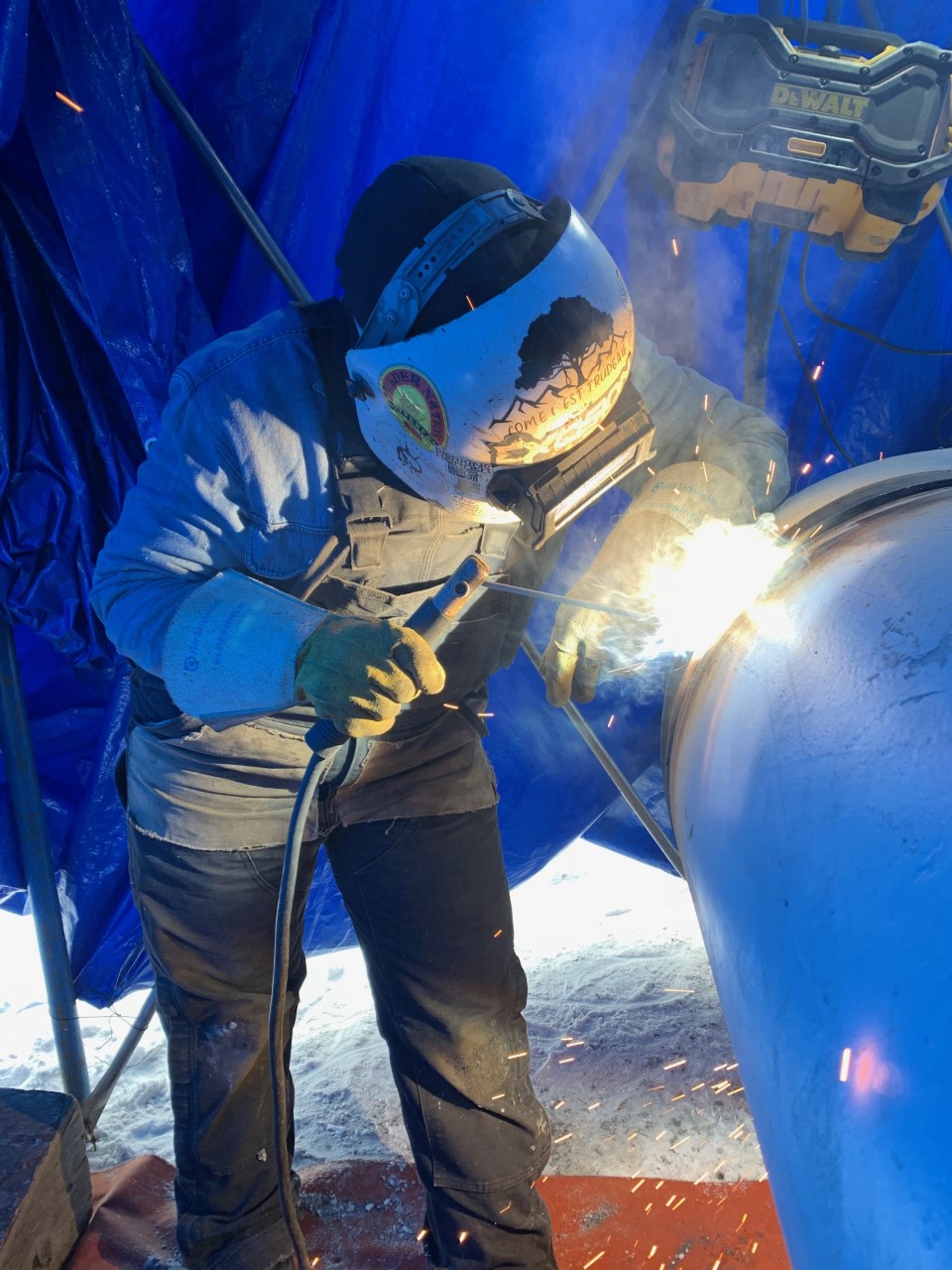 Meet Joelle Milne: Passion for perfection
Joelle Milne is a journeyman welder in Alberta, Canada. Although she had planned a career working with children with intellectual disabilities, the opportunity to pursue a different path that helped her achieve financial independence. To learn what it takes to achieve success as a female welder, read our interview with Joelle.
Describe your typical workday.
I work in the field, on shift work. Typically, this means 14 days on, 7 days off, and my days off include travel time as the sites I work at are often remote. My accommodations on site are a camp room, with all the privation that phrase implies. It is as far from luxury as you can imagine. I generally work 12-hour shifts, and conditions can be extreme. Welders work through it all, with nominal time for breaks and lunch. The work is labor intensive, and the expectations are high; welders are constantly scrutinized on their work and quality daily. If you can't keep up to quota, or get too many repairs, you're fired. That's just the way it is. Deep fatigue creeps in around day 9 of a 14-day tour; at that point, I'm on a bit of autopilot. It's a crazy nomad life, but I love it with everything in me!
How did you end up working in this field?
I would consider myself something of a tomboy, and I'm artistic and love working with my hands. My career in welding resulted from being in the right place at the right time. While working in a module yard running equipment, I had an opportunity to fill in for a welder's helper, and I never looked back after that day. I was indentured within a few weeks and truly blessed that I had a natural aptitude for the work. I was fortunate to be mentored by an amazing professional, Marv Wiser, who taught me the fundamentals and the attitude I needed to succeed. He was hard on me, more so than most (as he will admit) but learning from him made me the welder I am today.
What challenges do you face that may be unique to a woman in this role?
In all honesty, I've worked for companies that respect and encourage women in trades, and that makes a world of difference. On the emotional spectrum, I do battle being sensitive, but I think that's not exclusive to gender. I do think being a woman has made me a better welder. I care deeply, which makes my quality and standards better.
What unexpected benefits have resulted from your career choice?
The nature of location assignments means I have seen some country that the average person never will, extremely remote places of breathtaking beauty. The work setting encourages deep camaraderie in ways that might not be achieved in more traditional work settings. Most importantly, I am completely financially independent and have been since age 23, due to my welding career. This is key for women, to be able to be financially independent and secure. It's very satisfying to be able to express myself artistically through work that I find challenging and stimulating and to be well compensated for it!
Do you have any advice for other women considering a similar career choice?
I highly recommend having a strong sense of your values and a clear vision of your career goals. Be hyper-aware this career choice (working a trade, in the field) will bring you stress, sleepless nights, isolation, and can leave you unable to relate to those who have chosen a more traditional life and career. My closest confidant is another woman welder. I keep my circle small, and it's worked well for me.
What qualities does someone need to excel in a role such as yours?
A thick skin, an above-average work ethic, the ability to take criticism (your welds will be critiqued daily), and most importantly, a strong set of personal values which cannot be compromised. Would you describe work/life balance as more of an issue for you than your male colleagues? Is work/life balance an issue for you? My first instinct was to say yes. But then there was a follow-up voice saying, "remember, you chose this life."
At the end of the day, that's what it comes down to. I chose this life. I love this life; I would choose it a million times over. I want to have the family, the babies, that life eventually, and obviously being a woman working on the road hinders that a bit, but there will be time for that. This is my choice now.
What is one important thing that has improved in your industry for women during your tenure?
Awareness of this field as a viable career option for women is increasing. I see a lot of encouragement on social platforms to extend means to young women to get into the trades. In my career thus far, I have maybe met a dozen female welders. There's room for us, and room to grow!
When you become part of the FAM, you also become part of our "Be" Attitude culture. Our Be Attitudes are our core visions, and we apply them to every project we do for you, no matter how big or how small.
Contact Flint Avenue today and let us show you how to experience true business growth through our proven, professional marketing strategies applied with innovation, creativity, and excellence.