The Importance of Pronouns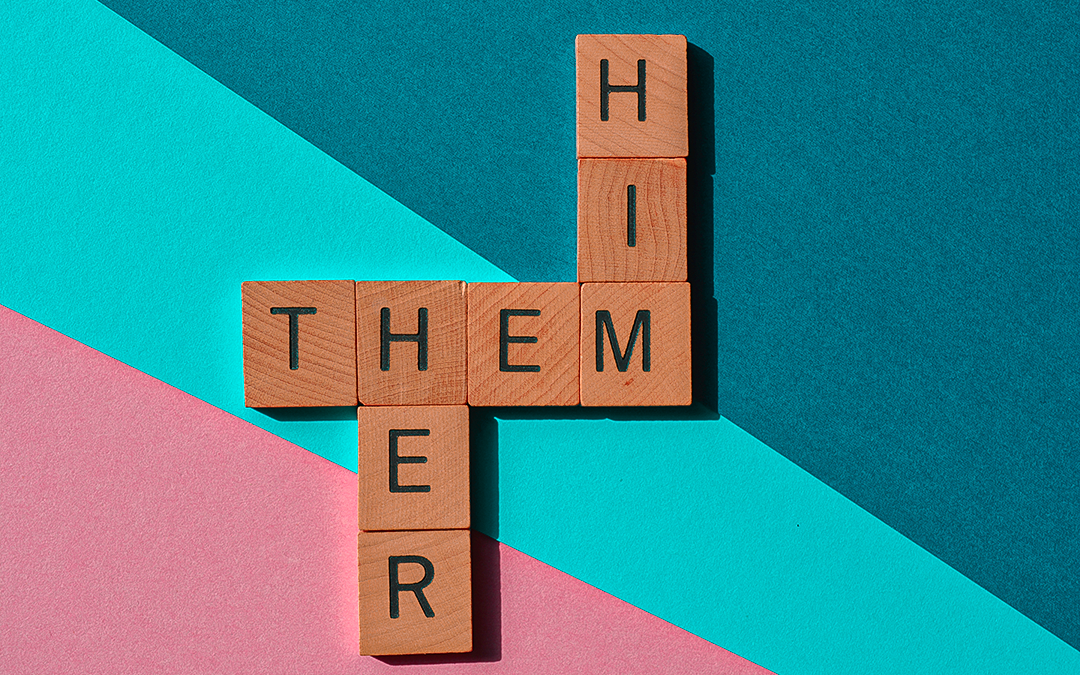 The Importance of Pronouns
At Flint Avenue, one of our core values is Be Open. We believe that making information accessible to everyone has a positive impact on trust, motivation, and empowerment. That means empowering our team to bring their whole selves to their work and be free to express their full identities, as well as our belief that our community should be able to do the same. Nothing is more fundamental to someone's identity than their pronoun usage.
What are pronouns and
how should we use them?
Pronouns are what someone uses to identify themselves to the world and move with them throughout their life. Using someone's correct pronouns shows respect, demonstrates inclusion, and can help create a positive environment. Referring someone with the wrong pronoun (known as misgendering), can have long-lasting effects on that person. Misgendering can lead to things like dysphoria, alienation, and exclusion.
Why do pronouns matter so much? In short, it's about honoring the person in front of us. When we affirm someone's gender identity, we can help lower the risk of depression, raise self-esteem, and make others feel more comfortable with their appearance, as well as their own gender identity.
We are all familiar with I, we, you, she, he, they, me, us, her, him, and them. But, how people use those pronouns is changing. This blog will explain the history of these pronouns and their current usage.
He/him
Until the 1960s, he/him was the default pronoun usage. It was considered gender neutral and inclusive. Feminist critiques of language changed that, and many people adopted the binary "he or she" or "s/he" usages instead.
For example, you might read in an Agatha Christie novel that the killer brandished his gun at the victim, even if we do not know who the killer is. Or the doctor always greets his patients with hello.
For individuals, the usage can be understood this way.
Example: Tom identifies as male, uses he/him, and introduces himself as such in every situation when meeting someone new. When thinking of Tom, use he/him pronouns.
Tom went inside the gas station to go buy himself some snacks. He enjoys trail mix.
She/her
We can understand she/her similarly to he/him.
Example: Maya identifies as female, uses she/her, and introduces herself with the pronouns she/her. Maya went to the library to check out some books for her class on the Ramayana. She enjoys Indian epics.
They/them
Many people think that singular they is a new usage, but singular they has a long history. Stretching back to the 14th century, the singular they usage first appeared in the medieval romance William and the Werewolf. Singular they solved a common problem in English: how to indicate gender when that gender was either unknown, unclear, or fluid.
Some languages like Estonian and Swahili do not assign gender to grammatical elements like pronouns. English is not one of those languages. Despite early adoption, much like the singular you, the singular they met fierce opposition from some grammarians. As modern gender roles solidified in the nineteenth century, grammar books and teachers reinforced these gender hierarchies by punishing this fluid usage. Singular they was deprecated and considered an incorrect and informal usage.
If singular they was good enough for Shakespeare, it should be good enough for modern speakers and writers.
Example: Sydney identifies as they/them. Sydney went into the gas station to go buy themself some snacks. They enjoy trail mix. When being invited to the movies, their friends ask them whether they would like to join.
She/they and he/they
Sometimes people use multiple sets of pronouns. These people might have a fluid sense of their gender. They might identify as both male and female or somewhere in between. If you aren't sure when to use which pronoun, then just ask.
Lily Zheng, author of Gender Ambiguity in the Workplace offered these insights in the Harvard Business Review:
"If people share that they use multiple sets of pronouns, make your best efforts to use the different sets they've shared. If you feel comfortable, you can ask them whether they prefer others using different pronouns within the same conversation (e.g., "I was talking to her the other day. They told me…") or changing pronoun sets across different conversations (e.g., Conversation 1: "I was talking to her the other day. She told me…"; Conversation 2: "They mentioned that to me before! They were saying…")."
Resist the urge to only address them by the single pronoun set that feels most comfortable for you, even if it's a set that they have indicated they are okay with.
Example: Evan uses she/her/they/them pronouns. She identifies as gender fluid. They like playing guitar with their bandmates.
Other pronoun options
He, she, and they are not the only pronoun options available. The following table shows how to use several other options. While these terms might be newer to some, they do have a history. While other pronouns have been recognized as a societal norm, they weren't used often. However,  other pronouns are becoming more common today.
| | | | |
| --- | --- | --- | --- |
| He/She/They | Him/Her/Them | His/Hers/Theirs | Himself/Herself/Themself |
| co | co | cos | coself |
| en | en | ens | enself |
| ey | em | eirs | emself |
| xie | hire ("here") | hirs | hirself |
| yo | yo | yos | yoself |
| ze | zir | zirs | zirself |
| ve | vis | ver | verself |
What's the best way to handle pronoun use?
Use someone's personal pronoun with openness.
Again, just ask!
While a different pronoun might be an adjustment to some, using the correct one might be extremely important to the person you are addressing.
Learn more about pronouns
We hope this blog helped you learn a little bit about pronoun use.
If you want to learn more about pronouns, check out the following resources that helped us write this blog.
Lily Zheng
Lily Zheng is one of LinkedIn's Top Voices. Follow them for more insight about gender equity and other DEI topics.
My Pronouns
My Pronouns answers many of the most common questions about pronoun use. Their resources page includes great videos that can help you understand more about pronoun use.
This video on sharing pronouns is fun and informative.
Texas Tech
Texas Tech has some great resources about pronoun use:
When you become part of the FAM, you also become part of our "Be" Attitude culture. Our Be Attitudes are our core visions, and we apply them to every project we do for you, no matter how big or how small.
Contact Flint Avenue today and let us show you how to experience true business growth through our proven, professional marketing strategies applied with innovation, creativity, and excellence.